Socrates' Apology / Lời xin lỗi của Socrates

2018-ongoing
Installation
Marker on silk cocoon, wood and plexiglass box, vintage school desk, copy of Socrates' Apology, notebook and pen
Dimensions variable
Cam Xanh
Contemporary Art




Instructions:

Each participant can come in the room one at a time, he or she first reads the instructions carefully, then chooses a paragraph, can be as long or short as they want, then writes down on the notebook their name, the time and date which they participate, then writes the first few words and last few words from the paragraph that they choose with the number of the page where the paragraph is. Then he or she uses the marker to write each word from the chosen paragraph on the silk cocoons which they find under the desk. After finishing writing on the cocoons, he or she can put all written ones in the plexiglass box mounted on the wall. Then they can leave. (Text courtesy of the artist)

This work was commissioned by the Nguyen Art Foundation for the Renaissance International School Saigon.

--

2018-tiếp diễn
Sắp đặt
Bút dạ trên kén tằm, gỗ và hộp kính plexi, bàn học dáng cổ, bản sao cuốn Socrates' Apology, sổ và bút
Kích thước đa dạng
Cam Xanh
Nghệ Thuật Đương Đại

Hướng dẫn:

Mỗi người tham gia sẽ tuần tự đi vào trong phòng. Đầu tiên, người đó sẽ đọc kỹ hướng dẫn, rồi chọn một đoạn trong cuốn Socrates's Apology, dài ngắn tùy nghi. Tiếp đến, họ sẽ viết tên, ngày giờ tham gia lên cuốn sổ, rồi chép lại một vài chữ đầu và cuối của đoạn họ chọn, kèm theo số trang của đoạn đó. Sau đó, họ sẽ dùng bút dạ viết mỗi chữ trong đoạn đó lên từng chiếc kén tằm đặt dưới gầm bàn. Sau khi viết xong, họ sẽ đặt những chiếc kén vào một hộp kính plexi trên tường. Khi xong xuôi, họ có thể ra khỏi phòng. (Phần miêu tả của nghệ sĩ)

Tác phẩm này do Quỹ Nguyễn Art đặt hàng cho Trường quốc tế Renaissance Saigon.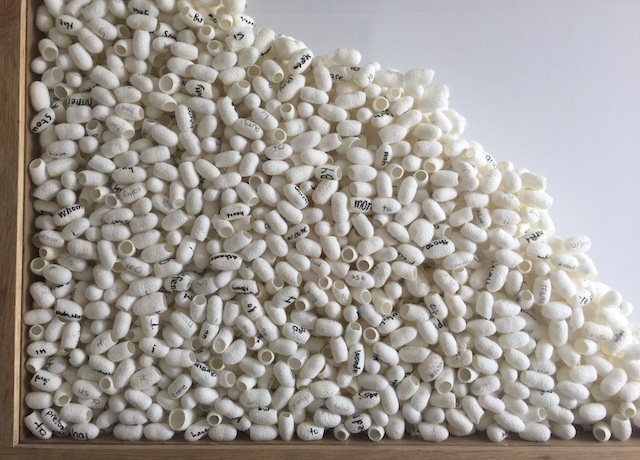 the Nguyen Art Foundation © 2020. All rights reserved. / Đã đăng ký bản quyền.