Summer Grasses (Hạ Thảo)


2018
Installation
Iron and concrete cabinet, ceramic vase, dry grasses and light bulb
Dimensions variable
Bàng Nhất Linh
Contemporary Art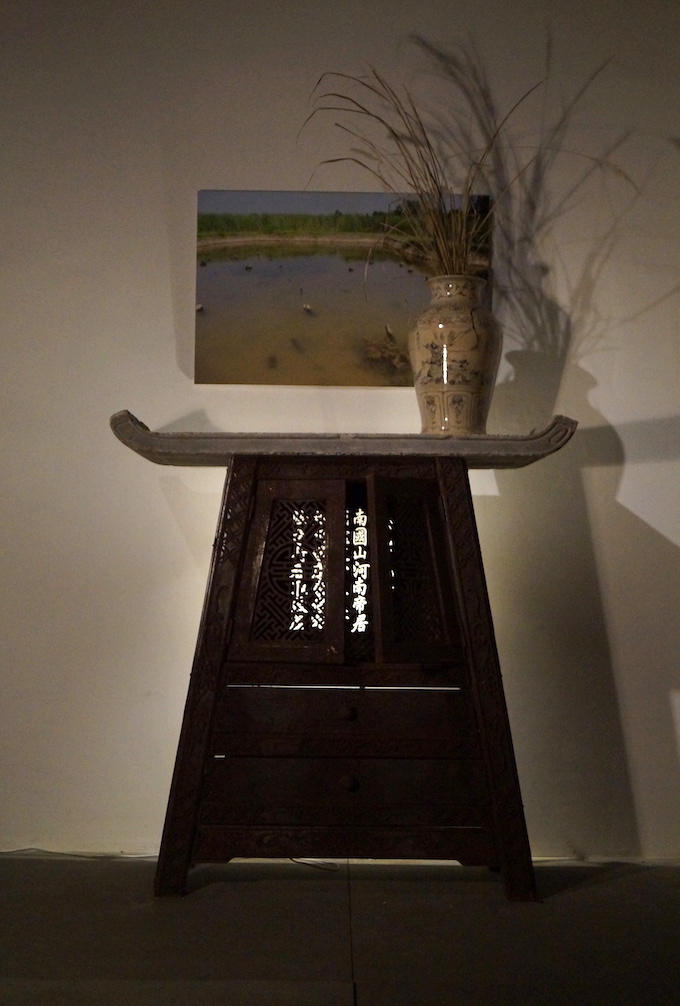 Bàng Nhất Linh's Summer Grasses installation is the result of an attempt to realise another artwork, Hero, between 2010 - 2012. Two poems inform the new work. The first is Nam Quoc Son Ha or Mountains and Rivers of the Southern Country, which appears in Chinese characters at the back of the cabinet, illuminated from behind. The 10th century poem is a call to war against the Chinese Song dynasty, and is considered the first declaration of Vietnam. It reads:

The mountains and rivers that carved the southern empire, dwelled by the Southern Emperor.

Its sovereignty is of nature's will and is allotted in script from the heaven. What gives these invaders the right to trespass it. They shall, in doing that, see themselves be defeated and shamed!

The second is the Summer Grasses haiku from the ancient Chinese poet Matsuo Basho (1644-1694), from which the piece takes its title:

Summer grasses:
all that remains
of warrior dreams.

A picture of the current site of the Battle of Bach Dang, the remains of the wooden stakes still visible in what is now swamp land, sits behind the rusted iron and metal cabinet. A ceramic vase painted with scenes of the victory rests on the cabinet's top, dried summer grasses sprouting from the vase's mouth. (Text courtesy of the artist)

Summer Grasses is an artwork commissioned by the Nguyen Art Foundation.

--

2018
Sắp đặt
Tủ bằng sắt thép, bình gốm, cỏ khô, và bóng đèn
Kích thước đa dạng
Bang Nhat Linh (Bàng Nhất Linh)
Nghệ Thuật Đương Đại

Sắp đặt Cỏ Mùa Hè là kết quả của nỗ lực tạo ra một tác phẩm khác mang tên Anh Hùng của Bàng Nhất Linh từ 2010 đến 2012. Tác phẩm lấy cảm hứng từ hai bài thơ. Bài thứ nhất là Nam Quốc Sơn Hà, viết bằng Hán trên lưng chiếc tủ, chiếu sáng từ phía sau. Bài thơ viết từ thế kỷ thứ 10 là lời kêu gọi ra trận chống quân Tống, được coi là tuyên ngôn độc lập đầu tiên của Việt Nam.

Nam quốc sơn hà Nam đế cư
Tiệt nhiên phận định tại thiên thư
Như hà nghịch lỗ lai xâm phạm
Nhữ đẳng hành khan thủ bại hư.

Bài thứ hai là Hạ Thảo, một áng thơ hài cú (haiku) của thi sĩ Nhật Bản nổi tiếng Matsuo Basho (1644-1694), cũng là tên tác phẩm:

Những bụi cỏ mùa hè:
hết thảy những gì còn sót lại
của giấc mơ người lính.

Một bức tranh vẽ trận Bạch Đằng, với những chiếc cọc trứ danh vẫn lấp ló trên bãi lầy, náu mình sau chiếc tủ sắt thép đã gỉ sét. Một bình hoa gốm trang trí bằng cảnh thắng trận được đặt trên nóc tủ, từng cọng hạ thảo khô héo tuôn trào từ miệng bình. (Phần miêu tả của nghệ sĩ)

Hạ Thảo là tác phẩm do Quỹ Nguyễn Art đặt hàng.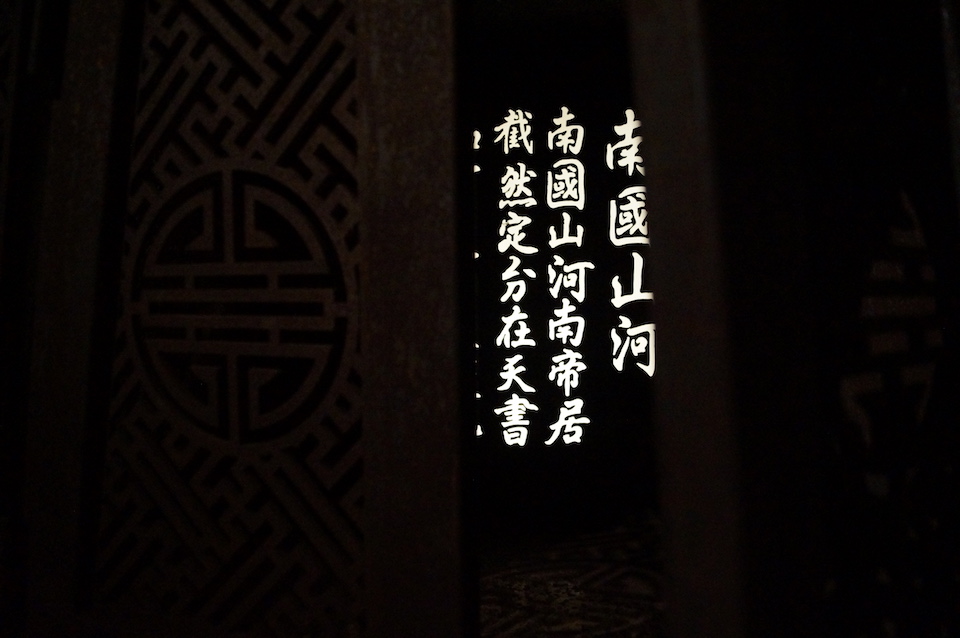 the Nguyen Art Foundation © 2020. All rights reserved. / Đã đăng ký bản quyền.